February 24-March 2, 2013
Ring of Honor's 11th Anniversary Show is coming up, and we've decided to celebrate by spending the next seven days showcasing some matches from previous ROH Anniversary Shows. Luckily for us, ROH has released a ton of classic matches from past Anniversary Shows, which has made our selection process incredibly easy. To get info, tickets, or instructions to order the 11th Anniversary Show as an iPPV, go right here. Make sure you check FPW every day to see what matches have been added. Also, check out our editor's preview of the 11th Anniversary Show.
2003: Jay Briscoe vs. Mark Briscoe
2004: CM Punk vs. AJ Styles
2005: CM Punk vs. Jimmy Rave
2006: AJ Styles & Evan Bourne vs. Austin Aries & Roderick Strong
2007: Takeshi Morishima vs. Homicide and Nigel McGuinness vs. TJ Perkins
2008: Bryan Danielson vs. Nigel McGuinness
2009: KENTA vs. Nigel McGuinness
2010: El Generico vs. Davey Richards
2011: Roderick Strong vs. Homicide
2012: The Young Bucks vs. The Briscoes
September 10-14, 2012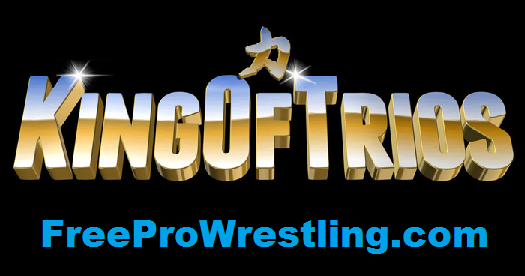 Chikara's King of Trios is the biggest independent pro wrestling tournament in the world every single year.  Teams from all around the world descend upon Pennsylvania to battle it out in a three day, sixteen team tournament to determine the best trio team in the world.  This year's tournament takes place September 14-16th.  All the information on this mega tournament is right here.  Learn more about Chikara by visiting their Website, Twitter, & their Facebook.  We also heavily encourage you to check out Kevin Ford's Chikara Special Blog.
9/10: Manami Toyota, Mike Quackenbush, & Jigsaw vs. Amazing Red & Los Maximos from King of Trios 2011
9/11: El Generico vs. Kota Ibushi vs. Nick Jackson vs. Jigsaw from King of Trios 2009
9/12: Brüderschaft des Kreuzes (Claudio Castagnoli, Ares, & Tursas) vs. Perros del Mal (El Oriental, Alebrije, & Cuije) from King of Trios 2010
9/13: The Young Bucks vs. Jigsaw & Mike Quackenbush from King of Trios 2010
9/14: Da Soul Touchaz (Acid Jaz, Marshe Rockett and Willie Richardson) vs. Team Blood, Sweat, & Ears (Kobra Kai, La Sombra & Super Xtremo) from King of Trios 2008
May 5-11, 2012
JT Lightening Invitational Tournament Week
On May 11th & 12th, Absolute Intense Wrestling Presents The J.T Lightning Invitational Tournament.  It is a TPI style tournament featuring 24 professional wrestlers, honoring the late, JT Lightening, and competing to earn a shot at AIW's Absolute Title.  For all the information on this tournament, check out this Press Release from AIW.  This week, we will post seven matches (instead of the usual five per week), which will spotlight the promotion AIW, and some of the competitors that will be competing in the tournament.  The matches posted this week will include the likes of Akira Tozawa, Brian "Spanky" Kendrick, Johnny Gargano, Willie Mack, Archibald Peck, and many more.  Come back every day for a new match.  For more information, check out AIW's Facebook, AIW's Twitter, and the AIW Store.
May 5th: Johnny Gargano vs. Akira Tozawa from the 2011 TPI
May 6th: ACH vs. Gary Jay from the 2011 TPI
May 7th: Archibald Peck vs. UltraMantis Black from Chikara 2011
May 8th: Willie Mack vs. Matt Jackson from IWL 2011
May 9th: Tim Donst vs. Mike Quackenbush from Chikara 2011
May 10th: Spanky vs. Christopher Daniels from 2002
May 11th: Johnny Gargano, Flip Kendrick & Louis Lyndon vs. Jonny Mangue, Chase Burnett, & Zane Silver from AIW Jack of All Trios 2010
April 9-13, 2012
TNA gets a lot of very deserved criticism for the product they have produced since they started in 2002.  Often in the past 10 years, their booking has been atrocious, their television show has been unwatchable, and their PPV buy rates have sunk to embarrassing lows as their shows have continued to disappoint over and over again throughout the company's history.  However, TNA has some of the most talented wrestlers in the world, and those wrestlers have produced many outstanding matches over the years under the TNA banner.  This week, we will examine some of the most prominent matches that have taken place at TNA's all-cage PPV, Lockdown.  Lockdown returns on April 15th and features James Storm vs. Bobby Roode in the main event for the TNA World Title.  For all the deserved criticism TNA has taken over the years, I am very much looking forward to watching that main event.  If nothing else, that is progress.
AJ Styles vs. Abyss from Lockdown 2005 — with thoughts from Reggie Gaines, Lee Goodfellow, and TJ Hawke
Alex Shelley vs. Chris Sabin vs. Jay Lethal vs. Sonjay Dutt vs. Shark Boy from Lockdown 2007 — with a recap from TJ Hawke and thoughts from Lee Goodfellow
Kurt Angle vs. Samoa Joe from Lockdown 2008 — with a recap from Reggie Gaines and thoughts from Lee Goodfellow
Kurt Angle vs. Mr. Anderson from Lockdown 2010 — with a recap from TJ Hawke and thoughts from Lee Goodfellow
Beer Money vs. Team 3-D from Lockdown 2009 — with a recap from Reggie Gaines
April 2-6, 2012
Colt Cabana is a great entertainer and a great professional wrestler.  However, he is currently not being booked to wrestle for the WWE, TNA, ROH, DG USA, or even PWG.  While I'm glad that great companies like Chikara, AIW, AAW, AAPW, and many others continue to book Colt Cabana, we feel like his work is not appreciated by nearly enough people.  So, we are taking a week to share some memorable Colt Cabana matches that have been released by the promotions that booked the matches.  To support Colt Cabana, follow him on his Twitter and buy his merchandise at ColtMerch.com.
We have already posted three matches featuring Colt Cabana.  Check out:
Colt Cabana, Luke Gallows, & Cliff "Domino" Compton vs. Joey O'Riley and The Kentucky Buffet in IWA: Unlimited 2012
Colt Cabana vs. Claudio Castagnoli from Ring of Honor 2009
Colt Cabana vs. CM Punk from FWA 2003
Colt Cabana, The Necro Butcher, & Grizzly Redwood vs. Claudio Castagnoli, Jimmy Rave, & Ernie Osiris from Ring of Honor 2009
 Colt Cabana vs. Alex Castle for the NWA World Title in IWA: Unlimited 2011